The Visionaire
Rick Owens is the Visionaire and style influencer behind Owenscorp. A diverse fashion group that includes his main collection, diffusion lines, and an assortment of home goods. Rick's best trait personally and professionally is his sophisticated sincerity. A characteristic expressed through his uniqueness, integrity, and dedication given to family, friends, and clients.
Loyal Luxury
His brand's unprecedented quality and twisted simplicity make him a leader in the loyal luxury. He finds his inspiration from icons David Bowie, Larry Gilaspi, and currently Gary Numan. These influential artists stimulate his creative process to produce a product that has eternal lasting power. There is great thought behind every garment label, stitch, and hemline for a finished result that is rich in every way.
The Update
February's runway show was about the gigantic glamour found in the exaggerated shoulder, high slits, and blanket puffers. However, the new color-ways are lighting up retails clicks and mortar. Lapis, Bordeaux, and an elevated hue of dark brown are proudly presented alongside his tried and true clothing variations.
The collection is a well-timed moment for his well-liked down cloaks. The outerwear is offered in short and full-length maxi, midi, and sleeveless liner silhouettes. All are great options to disguise the present down to earth dress code. The Style Server also showcases the cherry red Seb Gown. This is a signature statement to pair with a heel or sneaker.
The Style Server
The Update offers the new Rick Owens dark elegance. It includes many of his steadfast selections, cozy wraps, and standout footwear. A wise investment since 1994, from a designer who is highly respected for his sophisticated individuality and transparent sincerity.
Forever Chic!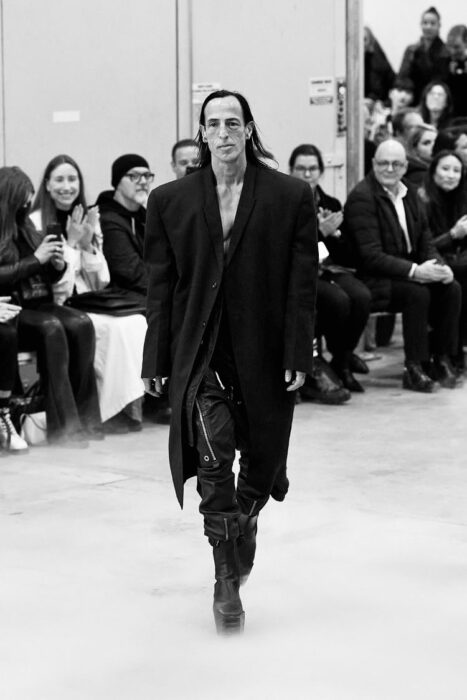 Image Source