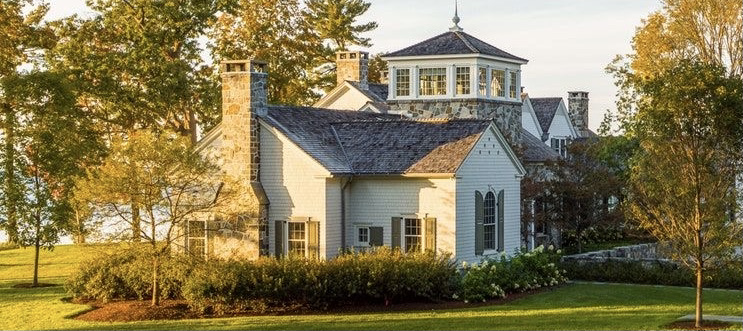 The Visionaires
A small step in the right direction eventually leads to bigger and better things. This is the story in the current Architectural Digest about the Vermont retreat that was reconstructed by Gil Schafer. The waterside cabin is located on Lake Champlain belonging to snowbirds who share their lifestyle between the Green Mountain state and the Florida tropics. The couple always intended to enlarge the property, and as fate would have it, their friend and designer, Patti Smith catalyzed the introduction to Gil. Through his unprecedented talent, Smith and Schafer joined forces to turn a small dream into a timeless treasure.
Firstly. the lavish location came with zoning restrictions. Gil took this challenge in stride, using his genius to design a circular floorplan. The new shape allowed the main living space to uphold the spectacular views, adding footage to sleep the immediate family and their offspring. The welcomed guests bunked in adjacent quarters designed only used when necessary.
The missing element was a traditional New England esthetic. To design this atmosphere, Schafer researched the historic architecture at the Shelbourne Museum for local inspiration. His findings added time-honored touches to produce a property with an old soul with a modern mind.
Interior Inspiration
The clients and designers worked as a team to fill the retreat with memorable furnishings, knickknacks, and works of art. They journeyed to Europe to find the perfect pieces to represent a household of multi-generational personalities. Textiles and wall coverings were a prime focus. Prints by Marthe Armitage, Brunsschwig & Fils, Claremont, and Loro Piana, were selected to add a charmingly rich charisma to the decor.
The serenity of Lake Champlain framed by the Adirondacks is the show stopper. Deborah Nevins was assigned to dress the landscaping with her artistry to honor its natural beauty. The finished set is a picturesque rendering, Instagram-ready for the ageless crowd.
The Style Server
The HomeGoods Server shares ideas inspired by the interior's homey glamour. One of the steadfast principles of Gil Schafer, whose work respects nature, tradition, and understands sentimental stylishness.
Forever Chic!