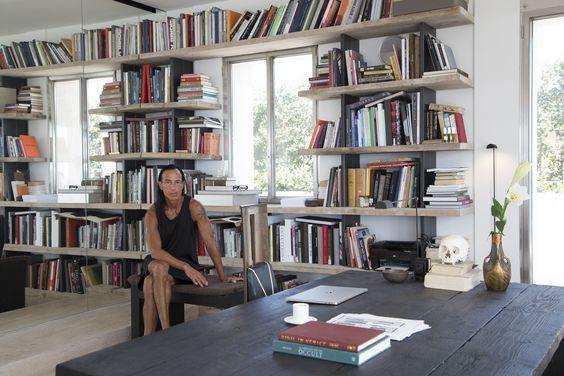 Over the past two weeks, I have experienced two simultaneous Rick Owens moments. The first took place at Saks with an outstanding presentation of his 2018 fall collection. The second was the Architectural Digest article showcasing his starkly sophisticated home in Venice.
Rick is known as an avant-garde designer through his consistent rituals has transformed a devoted following into a refined religion. All his creations are focused on ceremonial essentials that share the same thought-provoking coolness.
The new group at Saks offers his usual exacting elegance recognized by the use of pretentious fabrics, skins, and yarns. The apparel also portrays his fondness for the earth tones and unique engineered silhouettes infused by his ingenuity.
In the same fashion, the sparse Venice apartment offers room for thought to inspire artistic genius. The white canvas shows off the contrived decor found throughout the austere sanctuary. A wall of books gives the lacking layout an attractive intelligence and welcoming warmth. Once again, giving a meaningful purpose in everything he does.
Rick's congregation relishes the innovative fashion he represents. Formal, fitted, and funky the collections always please the devoted personalities that worship his extraordinary style and good taste.
Forever Chic!